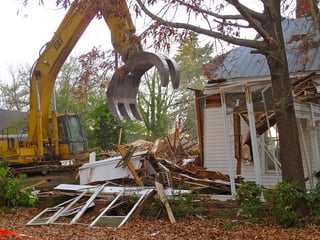 Potential tear downs are typically outdated houses in popular, sought-after neighborhoods. Maybe they're much smaller than average. The kitchen might be so old the last person who cooked in it had a beehive hairdo. They might have serious structural issues that make a renovation too costly.
All this means they tend to be priced below average for their street or neighborhood and often sit unsold longer than others.
Is The House Beyond Repair?
looking at neighborhood property value comps will help you decide between renovate or rebuildSometimes even a seasoned remodeler just says, "Ugh."
Older homes can have so many problems, it's just not financially feasible to repair them. Heavy infestations of mold or pests. Extensive water damage undermining the foundation or footings. Roof damage from wind or rot.
Some houses have interior layouts that are too tough to rearrange for today's lifestyles.
Will The Eventual Value Make It Worth It?
Real estate experts say a tear down should be able to support a new house that, when complete, is valued at two to three times the price of the tear down house when you bought it.
If you can nab an older, outdated house in a great location for $200,000, then sell it later for $400,000 to $600,000, that's a good candidate. Start by looking at the comparable property values — "comps" — of surrounding houses to get a better idea.
Do You Want All The Modern Bells And Whistles?
Think about what's important to you, or to your potential buyers.
Do you want a home that's energy efficient, from windows to doors to kitchen appliances? Wired for all the latest electronics? Contemporary room layouts?
By the time you update an older house with all those bells and whistles, it might be cheaper to tear it down and build from scratch.