Arwood Demolition completed the pool demolition for Donna Bullard.
Pool removal Location was located at 6134 Catawissa Ct, Jacksonville FL 32244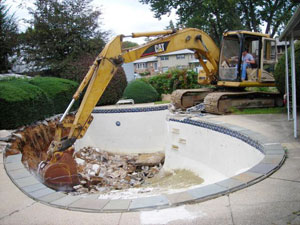 Serving North Florida and Southeast Georgia
Inground pool removal located at 6134 Catawissa Ct.
The pool is drained, and access to the pool area is gained. For heavy equipment (e.g., an excavator) to get to the pool area, this may involve temporarily taking down fences or removing foliage.
If the pool is made from concrete or gunite, heavy equipment is used to break it up and remove it. If the pool has a fiberglass or vinyl liner, it is removed as well.
There are two pool removal options: Complete removal or partial removal. All the debris is removed during a complete pool removal leaving just an empty hole, while a partial pool removal consists of breaking the concrete or gunite into small chunks and piling dirt on top of it. Call us to determine the best route for you.
The hole is filled in with fresh dirt, leveled, and new seed or sod is applied (if necessary).
Arwood Waste  uses proven techniques to demolish and remove swimming pools efficiently and safely. The process is fast and affordable. Get your backyard back; we'll help make that happen!
Verified: Insurance | License
Serving: Arlington Hills, Cedar Hills, Englewood, Jacksonville Heights, Loretto, Mid-Westside and throughout Jacksonville.
Specializing in: …
Pool Demolition in the  Service Area by Neighborhood
Arlington Hills | Atlantic Beach | Baymeadows | Beach Haven | Brentwood | Cedar Hills | Chimney Lakes | Craven | Crystal Springs | Deerwood | Del Rio | Duclay | East Arlington | Englewood | Glynlea-Grove Park | Golden Glades-The Woods | Greenland | Highlands | Hillcrest | Holiday Hill | Hyde Park | Jacksonville Beach | Jacksonville Heights | Julington Creek | Loretto | Mandarin | Mandarin Station-Losco | Mid-Westside | Murray Hill | Normandy Estates | Normandy Manor | North Beach | Oak Hill | Ortega Hills | San Jose | Sandalwood | Sans Pareil | Sans Souci | Settlers Landing | Southside Estates | Sunbeam | Turtle Creek | Windy Hill | Woodland Acres  |